Before you invest your time and money, schedule a call to see if this course is a good fit for your needs, and gain a few valuable feedback tips in the process!

One of the biggest challenges with annual feedback processes is that, since everyone is busy, who can remember what happened over the last 12 months? For sure, some things stand out, but can you easily recall enough examples to help your employee make significant performance gains? If not, you're in good company.
Many of my clients complain that their company's feedback/performance appraisal process is too time-consuming, emotionally draining and can feel like a waste of time, particularly when the training they've received in how to deliver effective feedback isn't especially helpful.
Often, companies provide a lengthy template for managers to complete for each team member. The process can be complex and rarely brings about lasting change in employee performance. Here are some common issues my clients face when it comes to feedback:
Finding time to complete the preparation, particularly for a large team.

Having difficulty recalling specific examples and defining development areas that will make a real difference.

Dealing with employees who routinely view development feedback as "negative" and enter the meeting feeling tense, anxious, and defensive.

Addressing strong emotions, like anger, tears, helplessness, and more…

Struggling to come up with "concrete evidence" to justify your salary recommendations to management/HR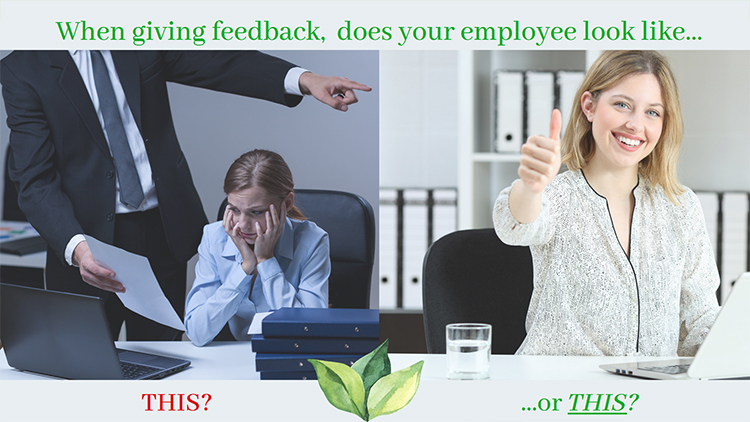 In this 6-part program, you'll learn...
What it takes to give feedback that makes a lasting difference for you and your employees.

How to create an "Effectiveness Opportunity Chart"-- A valuable yet simple tool for team planning and employee development.

How to provide effective feedback even when employees find it hard to hear.

Why it's critical to incorporate regular feedback into your management approach AND how to do it.

How to gain a holistic view of your team's capabilities, gaps, and qualities
Hear more about the course before you commit and gain a few valuable feedback tips in the process!
NOTE:
The first 15 registrants will receive access to a powerful self- assessment tool that can make a significant difference for you and your team!
($199 value)
Our 6-Part Program includes...
Four online learning modules of up to 30 minutes each.

"Homework" that can be completed as part of your regular workday.

Four weekly coaching sessions for one month scheduled at a mutually convenient time during which you may discuss any work issue(s) you're facing right now. This call will enable you to get all your questions answered, help you gain confidence in giving feedback, and give you the support you need to ensure your feedback sessions go smoothly AND bring lasting benefit.

Access to the HumanTelligence® self-assessment tool to help you understand your key behaviors, work motivators, ideal work environment and key values. Use of this tool includes a followup 1:1 consulting session to review your results.

"I've worked with Nikki for many years now, and for good reason. What stands out is her uncanny ability to see through to the core of what people need to "get over themselves" and gain traction. She approaches issues with great sensitivity and candor, and her provocative questions lead to unforgettable insights that can't help but lead to lasting change. The difference is palpable…"
Jonathan Morgan, Chief Growth Officer, Symend

"I met Nikki 20 years ago, during my tenure in Amdocs, and hired her coaching services twice for team building and setting goals for the teams. Her experience, leadership, along the results were invaluable! I Would recommend her for any coaching task."
Avi Ashkenazi, Executive V.P. /COO/CIO, New York, USA


"Great to be in the hands of a real expert---I want to thank Nikki for setting up this course and making it so enjoyable. I came out knowing much more than I did before --that's always good."
Project Manager, UK

"Nikki is just terrific. We are fortunate to have access to her talents."
V.P., Human Resources—USA

"I really learned a lot in your course. I'm using what I learned and putting it into practice here on site. So far, so good."
Project Manager -Ireland

"I just wanted to say that you are a true professional and that I am looking forward for the next opportunity to learn from you."
Human Resources Manager—London, England

"Through real life experiences, Nikki shows participants how the concepts she presents relate directly to their daily lives. All this is done with great charm and skill, so that we are learning while having fun at the same time-- Well done, Nikki!"
Senior Consultant, Baan PLM

"You covered all the key points and arranged them very well. Your course materials will guide me-- not only for work-related issues-- but also in every other type of communication with people in my life. Thanks again."
Project Manager -Cyprus

"100% I recommend Nikki. Her experience is invaluable. She is a wonderful compassionate intuitive coach that gets results and keeps you focused. She wants to bring out the best in you. It is easy to keep going it alone however the benefits of a coach for yourself or in your organisation will pay longterm and in ways you never could imagine."
Dee Smith, Clinical Hypnotherapist, UK
Get to know me and my approach before investing valuable time and money. I'll explain the options, give you some valuable tips, and answer any questions you may have.