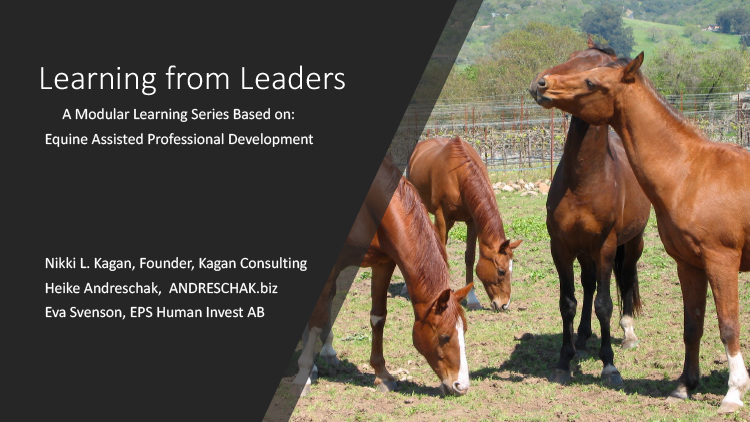 Many times my clients tell me that, despite trying various approaches to developing their leadership, they aren't getting the results they want. Maybe you too are looking to gain positive change--change that can happen within weeks rather than months-- or even sometimes years. Some of the typical challenges I'm brought in to help address are:
Getting projects to run more efficiently

Building self-leadership among direct reports

Strengthening mutual respect and understanding within the team

Freeing up time for more strategic matters
Level 1: Sneak Preview Webinar
Join our live webinar to not only experience how our online (horse-assisted) leadership program works, but also to gain new insights you can begin to apply immediately in your leadership. In this complimentary class, you'll discover:
How self-reflection can help you achieve what months of traditional training cannot.

The simplest, most effective way to encourage and motivate.

The critical element that most people miss when leading through change.

How to predict (and influence) team success.
To register for a sneak preview session choose the most convenient date from the list below. You'll then receive connection details for the free online session. The number of participants is limited.
My (4-legged) colleagues are also
available "face to face" and 1:1. Simply click 'Level 2' below to schedule your complementary coaching call to see if we're the right "
fit" for you!
Thursday, December 7th from 17:00-18:00 CET
Fill out my
online form
Thursday, January 13th from 17:00-18:00 CET
Fill out my
online form
Level 2: Free Coaching Call
Book a free 45 minute "coaching call" for guidance and support concerning whatever weighs most heavily on your mind right now as leader or manager.
Level 3: Leadership Development Program
Join our "Learning From Leaders©" 8-week Leadership Development Program. Our program includes:
Introductory welcome and check-in session for (limited to 8 participants)

Four 90-minute (live) online learning sessions addressing:
Self-Awareness & Leadership Presence
Motivating & Creating Engagement
Moving Through Change & Disruption
Team Dynamics at Work
Four 60-minute one-on-one coaching sessions

2-hour closing session with the full group
*Option to continue 1:1 coaching
If you'd like to learn more about this comprehensive, professional program,
Getting projects to run more efficiently